APPLY NOW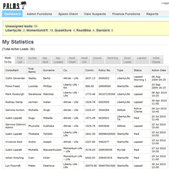 To apply for membership, please fill out your details on FIRSTLIFE INSURANCE LEADS or

WHATS NEW
PALMS 5.0.1 Launches

Profiled Aged Leads

Profiled Cold Call Data

Referral Program

Custom Lead Queues

Winter Specials
coming soon

Broker Search

Countrywide Broker Brand Search

Custom Broker Websites

Custom Quote Engines

Online Credit Card Payments

Advanced Wills

Mobile Application to Pull Leads

Pay as you go Memberships
P.A.L.M.S

The advantages of P.A.L.M.S. being an internet based software means our users can work from anywhere in the world. Simply login, and carry on working. All your notes and details of your client and their policy are available 24 hours a day. Monitor your new business from anywhere. No more having to phone the office to find out what is happening with a case. Simply login to P.A.L.M.S. Below are further advantages of P.A.L.M.S.:
Designed by Intermediaries
Designed by Intermediaries at AFP™ and CFP® level. This software has been designed by someone who knows your game. P.A.L.M.S. thinks like you think.
Backed Up Off-site Database



Legislation requires advisors to retrieve information and have it available within 24 hours. Using the P.A.L.M.S. system, together with other methodologies, you can ensure everything is available within minutes. All information is backed up off-site which affords the intermediary the peace of mind that their contact history will be safe in the event of a fire or theft. Your information may be accessed 24 hours 7 days a week.

Built and tested in the Long Term and Short Term Insurance environment. No need for adaption. Ready to go from the start.

P.A.L.M.S is perfect for the one person business, right up to an organisation with 2500 intermediaries. It's scalable, and we are able to ring fence our large corporate clients from one another. No need to spend endlessly on IT development to get into the digital game. FirstLIFE has done what's needed. Sign up for user licenses and you are ready to go, no matter the size of your business.

Cost Effective Business Management Tool



Whether its to manage your prospects, new business or existing business FirstLIFE has the solution for you. A highly affordable system which will answer your administration, compliance, client contact and client management needs. The system ensures that you will save time and money and track your business more efficiently, more accurately and free you up to do what you love best - SELL.

Additional features are listed below:




Prospecting Tool




Lead Management

Lead Intergration

Policy Management

Financial Reporting




Compliance Monitoring

FAIS Monitoring

Time Management

Financial Management




Work Management

Management Hierarchy

User Hierarchy

Policy Servicing




Activity Management

Production Management

Client Management

Business Retention
To apply for membership, please fill out your details on FIRSTLIFE INSURANCE LEADS
Intermediary - HOT Leads Intermediary - Discounts Intermediary - Application Forms